As many as four dragons were interested in the electric-powered boat when Bowter pitched at the Swedish version of Dragons' Den last week. Now the sights are set on Silicon Valley.
Swedish startup Bowter's development curve continues to climb steeply. In just over two years, they have gone from building their first prototype in the garage to soon launching their rental concept in nearly 20 locations in Sweden.
When they participated in the Swedish version of Dragons' Den last week, there was no doubt that their electric solar-powered boat impressed the five jury members (the dragons).
Three decided to invest straight away and a fourth decided to join in after the cameras were turned off. With a total investment of SEK 6M, including SEK 4M (about EUR 550,000 and 368,000 respectively) from the dragons, and four impressive profiles onboard, Bowter is now more ready than ever for the next step.
"It's been full steam ahead since the show was broadcast. I thought it was mostly investors who would be interested, but we've been contacted by a lot of entrepreneurs who want to start businesses around Sweden with our rental boats," says Jonas Ulveseth, founder of Bowter.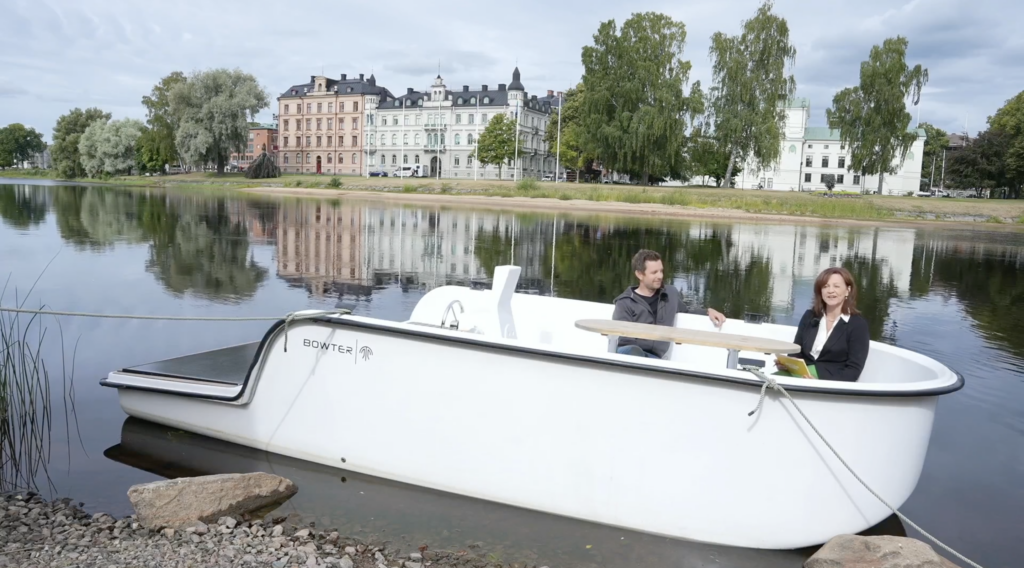 Launching in sunnier countries
Bowter now expects to be able to reach a wide global market soon. Together with Sting Bioeconomy, they will go to Silicon Valley in October to pitch to a large investor network.
"Getting to where we are now has been an incredibly fast journey. Now we need a bigger arena. The obvious choice for us is the US and that country's market. Silicon Valley is a great entry point for a global market. There you find the expertise to build companies big really fast. They also have a great deal of sun. Even though we are expanding here in the Nordic countries, the number of hours of sunshine up here is way lower," Jonas continues.
The actual event of the pitching is a sustainability summit, where Bowter's concept fits in very well.
"We have some good key factors in sustainability. We've embedded solar technology, we're running a project to produce boats with biodegradable boat hulls, the boat is made to be shared by several people and we plan to use recycled car batteries," Jonas concludes.
The plan is to have at least a hundred boats out in Sweden by 2023. By 2024, the company will invest heavily in launching the boat model internationally.