How can cellulosic textile fibres from sustainable sources reach a larger share globally? That was the principal question during the opening of the 1st International Conference on Cellulose Fibres in Cologne, Germany. The conference highlighted not only the great challenges of the textile industry, but also the fact that circular flow in textiles is really starting to take off.
A fully booked trade fair with 240 participants from 26 countries, the 1st International Conference on Cellulose Fibres took place on 11–12 February as the first of its kind. Apart from Germany, the most represented countries were Austria, Finland and Sweden. The fair was organized by Nova Institute – a private standalone research institute focusing on bio-based innovations.
Problematic cotton and synthetic fibres
The focus of the conference was: How to increase the share of CMMF (Cellulosic Man Made Fibres) in the world? In principle, fossil-based synthetic fibres and problematic cotton dominate the textile industry today. The quantity of fossil synthetic fibres has tripled in the past 25 years. Out of all fibres sold in the world today, 60 per cent are synthetic fibres, manufactured from fossil crude oil. No less than 35 per cent of all microplastics in the oceans come from synthetic fibres in textiles. Cotton, on the other hand, requires very much water and other resources, and causes serious environmental problems. The shrinking of the Aral Sea is regarded as one of the major environmental disasters caused by man, and the cotton industry is largely to blame.
Circular flow and cellulosic textile fibres
But the conference also highlighted positive examples. A number of technologies that enable the recycling of textile fibres and circular flows are now being developed. One pioneering company is Renewcell in Kristinehamn. Active in the field of circular flows in the textile industry, it is positioned at the absolute forefront globally in its line of business. Renewcell could make important contributions in shaping the future industry for recycling textiles.
"Instead of supporting cotton and fossil polyester industry, these technologies give us the opportunity to produce environmentally friendly and sustainable textiles that don't wear down the Planet's resources," says Marcus Elmer of Business Värmland, who was present at the fair.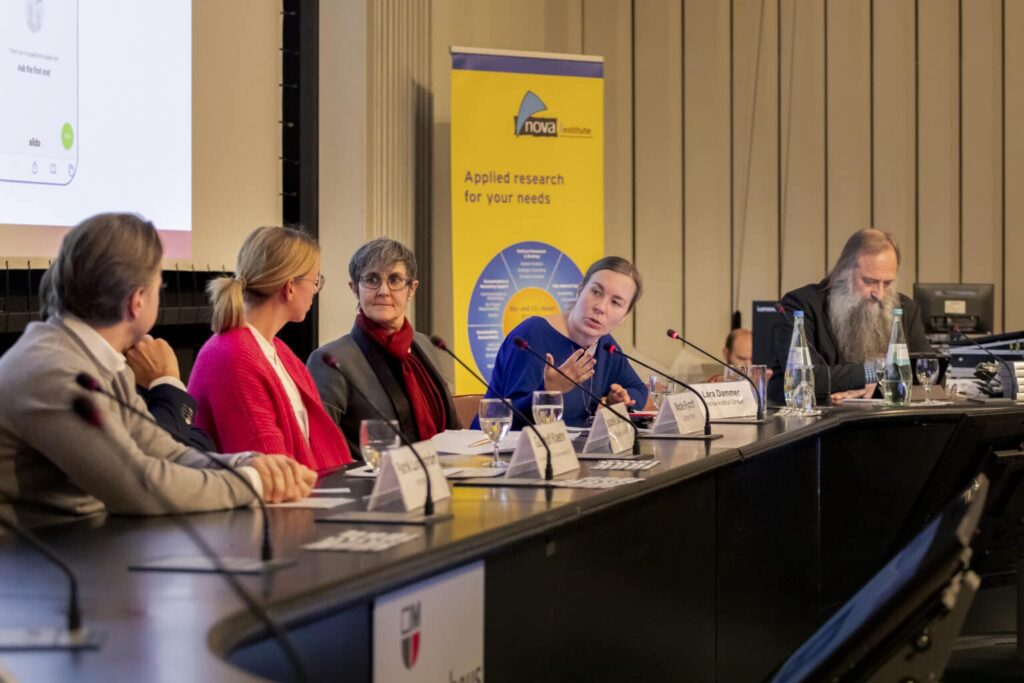 1st International Conference on Cellulose Fibres, Panel Discussion: Innovating Sustainable Lignocellulosic Feedstock; (L-R) Patrik Lundström, re:newcell (SE); Gundolf Klaehn, Partnership for Sustainable Textiles (DE); Isabelle Montanus, Esprit (DE/HK); Nicole Rycroft, Canopy (CA), Lara Dammer, nova-Institut (DE); Michael Carus, nova-Institut (DE)
'We need to clean the production and bring it back to Europe'
Textiles from forest biomass are already being produced, but even that process has some challenges. True, it is based on renewable raw material and forest, but the dissolving pulp is then exported to China, where it is spun into viscose fibres. This production is very chemical-intensive and dirty, plus it creates poor working conditions. Therefore, the big challenge is to use the forest in a sustainable way throughout the value chain.
One recurring phrase at the conference was 'We need to clean the production and bring it back to Europe'. This means that we need to create complete value chains from raw materials to end production, in order to guarantee sustainability, contribute to economic growth and create jobs in Europe.
"The conference was an important step towards linking together the players in the textile industry that want to become sustainable," Marcus Elmer concludes. "Together, we can be strong enough to strive for sustainable textile production, with circular flows, sustainable raw materials, and environmentally friendly and work-friendly processes!"