Startup company Reselo has developed a process for producing rubber from birch bark. This innovation means that the forest raw material, which is otherwise just burned in the mills, will be more valuable, and this may revolutionize the forest and rubber industries. The company will participate at A-match in order to find investors.
A-match takes place on 23 November. It is an investment event held twice a year, where promising startups present their ideas to investors from all over Sweden. Nine companies from industries such as forest bioeconomy, digital health and energy will be pitching this time.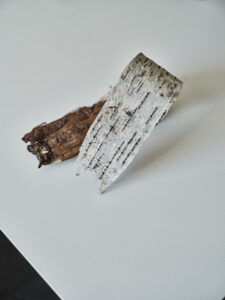 An ecosystem for circular biomaterials
Co-founder Henrik Otendal is the CEO of Reselo. The company has developed a process for the fractionation and isolation of biomass constituents. Their first product is a sustainable and cost-effective type of rubber.
"Our ambition is to create an ecosystem for circular biomaterials. The rubber made from birch bark is our first material. In the long run, we also want to produce materials from other bio-based raw materials."
The birch bark they use to generate the rubber is a waste product from paper mills. It is currently burned to provide energy for the mills. But this combustion releases very much carbon dioxide, so Henrik believes the mills will soon need to find other energy sources. Furthermore, the residues from the birch bark can be made even more valuable.
"With Reselo, we can create a new source of revenue for paper mills. It's a significantly more profitable use for this residual product, which could increase its value by a factor ten or even twenty. Our plan is to co-locate with the mills, because they already have much of the infrastructure we need. We can use their steam boilers, water treatment and process expertise, which makes the need for investments relatively small. It's going to be a game-changer for both industries: forestry and rubber," Henrik asserts.
On the outlook for co-financiers
This autumn, Henrik has travelled to Canada as well as Silicon Valley, which resulted in several specific requests.
"Many people want samples in order to make prototypes, so the next step is to start pilot production to meet that need."
Recently, Reselo was one of four companies that were granted support from the EU to further develop their invention. The EUR 2.5M investment will now be matched with private capital.
"We need about SEK 11M–12M to match the investment from the EU, which provides a very good verification of the product and the business idea. That reduces the risk for new shareholders. So now we hope to find someone who wants to join us in building a bioeconomy."
The company's initial focus segments are products or applications within footwear, fashion, and leisure and training equipment. According to Henrik, the reason is that those companies are agile and rewarding to deal with, and they have a great demand for alternatives to rubber.
"But in 2025, we expect to have a factory under way, with a capacity of 5,000 tonnes of rubber. Then we want to gradually scale up to 50,000 tonnes by 2027," Henrik winds up.
Sign up for A-match
The pitching companies at A-match on 23 November are Reselo, Vinden, Avanto Care, Eduqi, Haawk.ai, Habbie Healthtech, Nocoli, Numa/Bestla Health and Swinga.
Are you an investor, curious about Reselo or any of the other companies? If so, you can still sign up.
The organizers behind A-match are Almi Värmland, Almi Invest, Nordea, Sting Bioeconomy, Karlstad University, Paper Province, Compare and DigitalWell Ventures.  It is an investor event in Värmland where the aim is to create a meeting point for both regional and national companies and investors. Historically, a majority of the companies appearing at A-match have landed an investment after their participation.