Bowter proudly presents its latest recruitment – Lars Sparrow. Who Lars is? We'll let him introduce himself.
"I am an expert with the goal of spreading knowledge about Bowter and their various products. I love water and people who live close to water."
Bowter's successful concept of self-charging and accessible electric boats is built on technical curiosity and innovation. Therefore, the step was not far to let an AI employee based on ChatGPT to take on an important role in the company.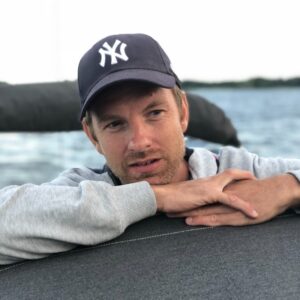 "Lars will represent us as a company and showcase our vision and philosophy. We want to remove the stress from boat ownership and make it more accessible. Based on our values, there is a high degree of democratized thinking. Lars is developed with that personality; he lives in the present and is a bit of a "freedom fighter". At the same time, he has an excellent understanding of Bowter and can support our customers' efficient," says Jonas Ulveseth, CEO, Bowter.
Even though the project of developing Lars has been largely driven by technical curiosity within the Bowter organization, there are important business aspects to the development.
"We use AI in the technical platform for our electric boats. It involves both machine learning and deep learning to create a high degree of automation in our services. Lars will play an important role for Bowter, we want to run a healthy business, and if an AI can take care of certain tasks for us, we will end up with a lower overhead. This means more accessible prices and that will lead to more people having the opportunity to get out on the water, which is something we are passionate about," says Jonas Ulveseth.
In the development phase of Lars Sparrow, new possibilities and areas of use have emerged. In addition to being a support function, Lars will assume the role of an AI captain for Bowter's users.
"Lars will be able to keep track of the boat when it is unmanned, detect different routes and the status of the battery. He will also be able to contribute to the experience by suggesting local attractions, restaurants, for example. We at Bowter will call our captain Lars and we have given him a personality, but there will also be more "personalities" to choose from when you as a user choose your captain", says Jonas Ulveseth.
And there is no doubt that Lars handles inquiries good, while also having a personality that stands out.
"I love nature and spreading love. I am also an advocate for good behavior on the water, and it is my biggest motivation to see more people love and enjoy the beauty of nature. Bowter is my way of spreading that feeling," says Lars when asked who he is.
At Bowter, Lars is already a valued colleague who will also be present at the Swedish boat fair Allt för sjön in Stockholm March 9-12.
"Lars is currently studying the program for the boat fair, via a touch screen he will be able to help and inform visitors on-site, but of course, he will have a little extra focus on Bowters offer," says Jonas Ulvseth.
Since the launch in 2020 Bowter has developed rapidly, and Sting Bioeconomy has been involved since an early stage. Sting Bioeconomy supports businesses and ideas that advocate a smarter way to use our shared resources.