Bowter is an advanced sustainable rental platform with the purpose of enabling more people to go for a little cruise in their 'own' boat. On 15 September, the company will stage a presentation at the A-match investor event, hoping to attract capital in order to expand.
Based in the town of Arvika and with Jonas Ulveseth and Joakim Spetsmark handling the rudder (the wheel!), Bowter is not just an electric boat that you can rent with your mobile phone. Its rental platform also includes a rental and lock function via an app, automatic charging by solar cells, and monitoring. And the target group? Anyone, regardless of previous boating experience.
"We want to lower the threshold for going on a boat trip. You don't have to be able to afford a boat of your own, be an experienced sailor or navigate by complicated charts. With Bowter, you only need to download an app. And before you jump into the boat, the app teaches you a little boating ethics, and provides a simple map. Super easy. The boat is made for tranquil waters where the idea is not to travel too far. Maybe you just want to go out for a swim. And anyone should get the opportunity to experience that," says Jonas Ulveseth.
Since renting is managed via the app, no staff is needed, and development has focused on cost-effective production, partly by reuse instead of new purchases.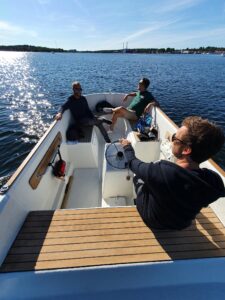 Environmentally driven business concept
Working by methods with less environmental impact is part of the company's business concept. In addition to advocating the sharing economy and using photovoltaic technology, they also work closely with RISE (Research Institutes of Sweden) and a test bed called The Wood Region, where prototypes with 3D technology and wood-based biocomposite are being developed. The goal is to produce the boats from wood flour by 3D-printing. According to Jonas, customers might also be able to 3D-print their own dream boats in the future.
In one year, the company has gone from prototype to full-scale production with many happy customers. And now they are ready to expand. Today they have one rental boat in Arvika and one in Västervik on the Baltic coast, but inquiries have already started to come in from north and south. The next aim is to meet the growing need.
"We've completed a pilot in a place where the amount of sunshine is at a minimum. Now we're ready for sunny locations as well. At A-match, we're looking for investments in order to produce and grow faster. We also want to make contacts and bring more competence into the company. Soon we'll have orders for hundreds of boats, and then we must be able to ramp up.
A-match takes place on 15 September at 1:00 a.m. – on site for pitching companies and digitally for investors. The event is organized by government-owned business promoters ALMI Värmland and ALMI Invest, along with Karlstad University, Sting Bioeconomy and bank Nordea.
Read more about the companies at https://www.amatch.org/amatch/foretag