Fibu has developed an organic and sustainable protective material – serving the same purpose as polymer foam and bubble wrap – from wood fibres. With this product, the company hopes to contribute to a significant reduction of plastic from disposable products in the oceans. Now Fibu is joining Sting Bioeconomy.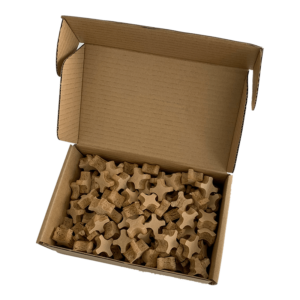 "The whole world is polluted with microplastics – in the sea, in the air and on the ground. Now is the time to start eliminating the plastic," says Clas Tegerstrand, who is Fibu's Chief Commercial Officer.
Fibu is a startup that has devised a cellulose-based foam from wood fibres that can replace plastic in protective packaging as well as other applications, such as filters and construction material.
The wood fibre foam is a non-plastic mono-material with high shock-absorption capability and excellent resilience properties. It is also naturally anti-static. Furthermore, it uses less wood fibres than, for example, Wellpack, which makes Fibu's material both lighter and potentially more environmentally friendly, since less wood raw material is needed compared to other products in the market.
The fibre foam can also be made from recycled cellulose and low-quality fibres that are not suitable for applications like paper manufacturing, thereby putting the raw material to good use in a resource-smart way.
Eight years of research
Fibu was started by researcher Majid Alimadadi. He presented his doctoral dissertation at Mid Sweden University, about pulp and paper technology with focus on production methods and characteristics of three-dimensional fibre structures. In 2018, he was granted financial support by the world-leading business cluster within the forest bio-economy, Paper Province. The money was used for market surveys in order to determine the need for an environmentally friendly protective material made of renewable raw materials. The positive outcome encouraged him to take the next step.
"The trend in packaging is strongly towards sustainable materials. Paper Province showed they believed in my idea, which made me venture into entrepreneurship instead of just being a scientist," says Majid.
Ready for the next step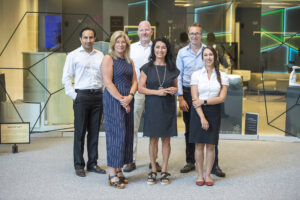 Fibu has just started its first production plant in Hallstahammar, in central Sweden, from where the product can be delivered to early customers. In five years, they hope to be one of the main suppliers of environmentally friendly packaging materials in the world. And the future looks bright. They already have a dialogue going with major clients.
"We're now in a money-raising phase. Anyone who wants to invest in Fibu is welcome to contact us. We need to pave the way for next year, when our capacity must expand a lot. There's a gigantic market, great demand and much new legislation – everyone wants to move away from plastic, says Clas.