At the business gala Guldstänk, arranged by the city of Västerås, Fibu got named innovator of the year.
Fibus goal is to fight plastic pollution caused by the modern lifestyle on the planet. With a pure, natural, and sustainable alternative for plastics in several various applications including protective packaging.
"We are so grateful, humbled, and excited for winning Guldstänk's award for innovator of the year. This is an important prize for us since it was awarded based on an expert jury decision together with public voting. Apart from the technical aspects, this also clearly shows how the community, as a whole and in its all layers, is sensitive to climate issues, and in particular, the plastic pollution problem. We are now more motivated than ever in our mission to fight plastic pollution", says Majid Alimadadi, CEO, and co-founder at Fibu.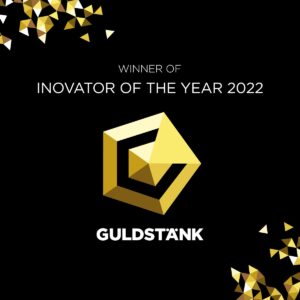 The jury's motivation for "innovator of the year"
(translated from Swedish):
"The innovator of the year has worked focused with the goal in mind from day one. With a burning drive and a strong team, sustainability is the guiding star of the business concept. The people have voted and together with the jury, we agree that the winner has an exciting journey ahead, and we dare say that it is already packed and ready."