Musikhjälpen ('The Music Aid') is a live broadcast charity event, the Swedish public service being among the organizers. The hosts are three people in a glass booth, somewhere in Sweden. This year it takes place on 12–18 December. Just like in previous years, one of the participants is Melker of Sweden, and this time Bowter joins in. Together they encourage the public to help keep kayaks (and one electric boat) in motion during the event's 144 hours.
Since 2015, Melker of Sweden has raised money for Musikhjälpen through the 'Paddla för Musikhjälpen' initiative. This year's challenge is to keep at least two kayaks in constant motion, day and night, around the island of Kungsholmen in Stockholm during the 144 hours, with the hosts broadcasting live all the time.
"We're going to use both a 3D-printed kayak and our fully bio-based composite kayak when paddling non-stop throughout these 144 hours," explains Pelle Stafshede, CEO of Melker of Sweden, a Sting Bioeconomy alumni company.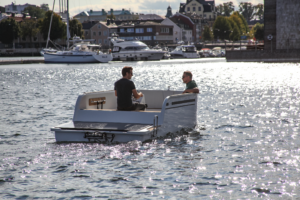 A new element in the water: the Bowter electric boat
Bowter, one of Sting Bioeconomy's accelerator companies, is behind the solar-powered electric boat and will also be involved this year – in many ways.
"We're going to take part in this year's paddling with one of our boats, and there will be plenty of opportunities for a test ride. All the proceeds will go directly to Musikhjälpen. On top of that, and other things, we're going to organize a raffle for our new Bowter Flow subscription, which entitles to free access to electric boats next summer," says CEO and founder Jonas Ulveseth.
Everyone can join
Everyone can join the paddling, from professional kayakers to those who have never set foot in a kayak before. The money raised goes directly to Musikhjälpen and this year's theme – for a safer childhood escaping war.
"This is one way for us as a company to take greater social responsibility in what we do. We feel it's important to participate and contribute. Last year we raised SEK 140,000 (about EUR 13,000), a figure we aim to exceed by a good margin this time. We've already received SEK 40,000 (about EUR 3,700) before even starting, and we're extremely happy for that!"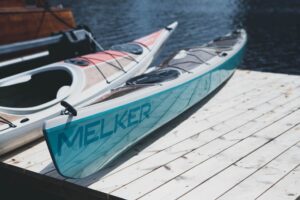 Paddling around Kungsholmen
The base of 'Paddla för Musikhjälpen' is at Pampas Marina near the Kungsholmen island, where visitors and paddlers can warm themselves, and buy food and drink. During the Musikhjälpen week, various activities will be going on there, such as making saffron pancakes in an outdoor kitchen, and concerts – around the clock.
Want to be part of it?
You can contribute at least SEK 100 and paddle one of the kayaks around the island – it takes about two hours. Or contribute at least SEK 300, and you will also get food and a seat in the wood-burning sauna. All the equipment for winter paddling is included, from dry suits and kayaks to instructors and guides.
Book your seat
If you want to join in and contribute, please book your paddling tour at paddlaformusikhjalpen.se.