Aiming for the international arena, Sting Bioeconomy notices foreign companies are very interested in verifying their products and services in Sweden.
"We've started the journey towards creating a 'Bioeco Valley' here in Sweden," says Managing Director Victor Isaksen.
Since the start in 2018, Sting Bioeconomy has had a large influx of innovative startups linked to the bioeconomy. And now both the accelerator and Sweden are getting much attention internationally.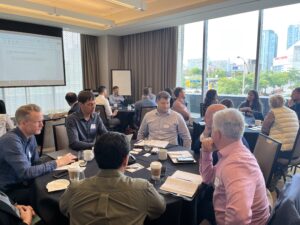 "Sweden is at the forefront when it comes to the interest in sustainable products as well as innovations from the forest. That has made it attractive for more businesses to come here to verify their products from a technology and market perspective, before they can export. We noticed obvious examples of this when we met overseas companies," Victor continues.
Great interest in Canada and the US
This past autumn, Sting Bioeconomy visited Toronto, Canada for the Swedish-Canadian innovation days and, among other things, arranged a matchmaking event between Swedish startups and Canadian organizations. Together with Bowter – one of its accelerator companies – Sting Bioeconomy also participated in Forest Innovation Summit in Silicon Valley. The interest was overwhelming in both countries, according to Victor. Bowter got a lot of attention for its solar-powered electric boats, and will now invest in the US as well. There was also great interest from startups wishing to establish in Sweden.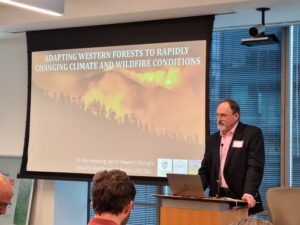 "In the US, for example, there are an amazing number of cool startups. The problem is that they don't have enough customers focusing on sustainability. But now the awareness of sustainability and the interest in the forest are on the rise. In Sweden we have a head start, and that's something we should use," says Victor.
He finds that Sting Bioeconomy has, along with partners such as Paper Province, LignoCity and Karlstad University, a unique opportunity to build an environment similar to Silicon Valley for those who want to work in the bioeconomy sector.
"Thanks to our head start, we have unique possibilities to pave the way for many startups to grow in Sweden. It's not only about companies focused on the forest. We're going to be a melting pot where advanced IT, AI and telecom meet the forest and the natural world.
Bioeco Valley – the centre of the bioeconomy is in Sweden
When does the journey start towards a Bioeco Valley?
"We're already on our way. We have so many exciting startups and large corporations here, with unique technology that's being watched attentively by many. They see the future emerging here. For that to happen, we must support it. For example, by letting companies come here to verify their technology and find their first customers and investments. Then, when the time is right, we can export their services and products to the rest of the world. We already have a good example: Lixea, the company that moved from London to Värmland to separate lignin, cellulose and other substances from biomass.
Victor is secretive, but he can reveal that another English company, and a Canadian one, are on their way to establish in Värmland, taking off on the same journey as Lixea. He wraps up:
"It's not the large corporations that will save the world, but startups in partnerships with the corporations."