That was the message when the yearly event called Forum för Bioekonomi, hosted by the Swedish Forest Industries Federation Forum, kicked off digitally on 20 April 2021. It was a day that offered knowledge, predictions of the future, debates and an introduction to smart and sustainable hygiene products.
Sweden is at the forefront of bioeconomy and innovation, with the goal of becoming the first fossil-free country in the world. It was made clear that, in order for this goal to be attained, the forest has an invaluable role. But since the forest cannot be used for everything, we need to make wise trade-offs. Therefore, smart innovations and a circular mindset are of the essence.
Forum för Bioekonomi, part of the 2021 edition of Skogsnäringsveckan ('Forest Industry Week'), which was broadcast digitally in late April, was a chance for the forest industry, politicians and policymakers to discuss the opportunities and challenges of the circular bioeconomy. The three sustainability dimensions – social, economic and ecological – are all needed for sustainable development. Taking this as a starting point, this year's in-depth themes were sustainable consumption and sustainable forestry. How are businesses, citizens and decision-makers affected, and how can we contribute?
The hostess of this year's event was Viveka Beckeman, Director General for the Swedish Forest Industries Federation, and Anki Frécon was the moderator. The day featured many prominent speakers, such as public debater Maria Wetterstrand; Minister for Business, Industry and Innovation Ibrahim Baylan; and Jonas Carlehed, Sustainability Manager at IKEA Sweden.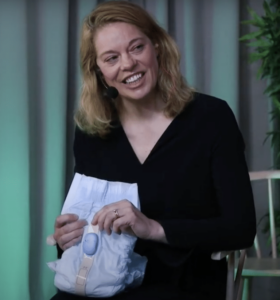 Circular furniture retailer and smart nappies
During the morning session, Jonas Carlehed talked about IKEA's major circular initiative. In 2030, all IKEA's products will be designed for a circular life, consisting only of renewable or recycled materials. The company also strives to help customers prolong the life of their products and be part of the move towards a fossil-free world. As a global leader, IKEA inspires many other companies to follow the same path.
New this year was the opportunity to choose an in-depth session in the afternoon – focusing either on sustainable forestry or sustainable consumption.
During the latter, Timber on Top presented the advantages of erecting tall wooden buildings in densely populated areas. In another talk, leading global hygiene company Essity made us acquainted with their surgical face masks, paper towels that can be reused eight times, and their digital nappy, which tells you when it's time to change.
All in all, Forum för Bioekonomi was a successful event that will hopefully inspire more people to make their forestry and entrepreneurship circular and sustainable.
Read more or watch the broadcast from Forum för Bioekonomi here (in Swedish).